DAVID BOOTY
TECHNICAL MANAGER
How many years have you been working at IMAX?
32 years. I started at Dreamworld IMAX then became an IMAX Service and Install Tech, travelling the world before landing at IMAX Melbourne.
IMAX 1570 Film or IMAX Laser Digital and why?
I love both for different reasons. 1570 has an earthier, natural and imperfect feel to it with a slightly warmer colour temperature. Laser is simply stunning. Big, bright and crisp and with the 12-channel soundtrack on many films, it can't be beaten.
How do you splice a 1570 film print together, and how long does it take?
The 1570 films are joined together using a special zig-zag tape splicer and it takes around seven hours to splice together a two and a half hour film. The zig-zag splice allows the film in the projector to hold its shape, whereas a straight edge splice would collapse as it rolled through and crash the projector.
How fast can you thread the 1570 projector?
Including a quick projector clean, I can turn a 1570 film around in five to six minutes.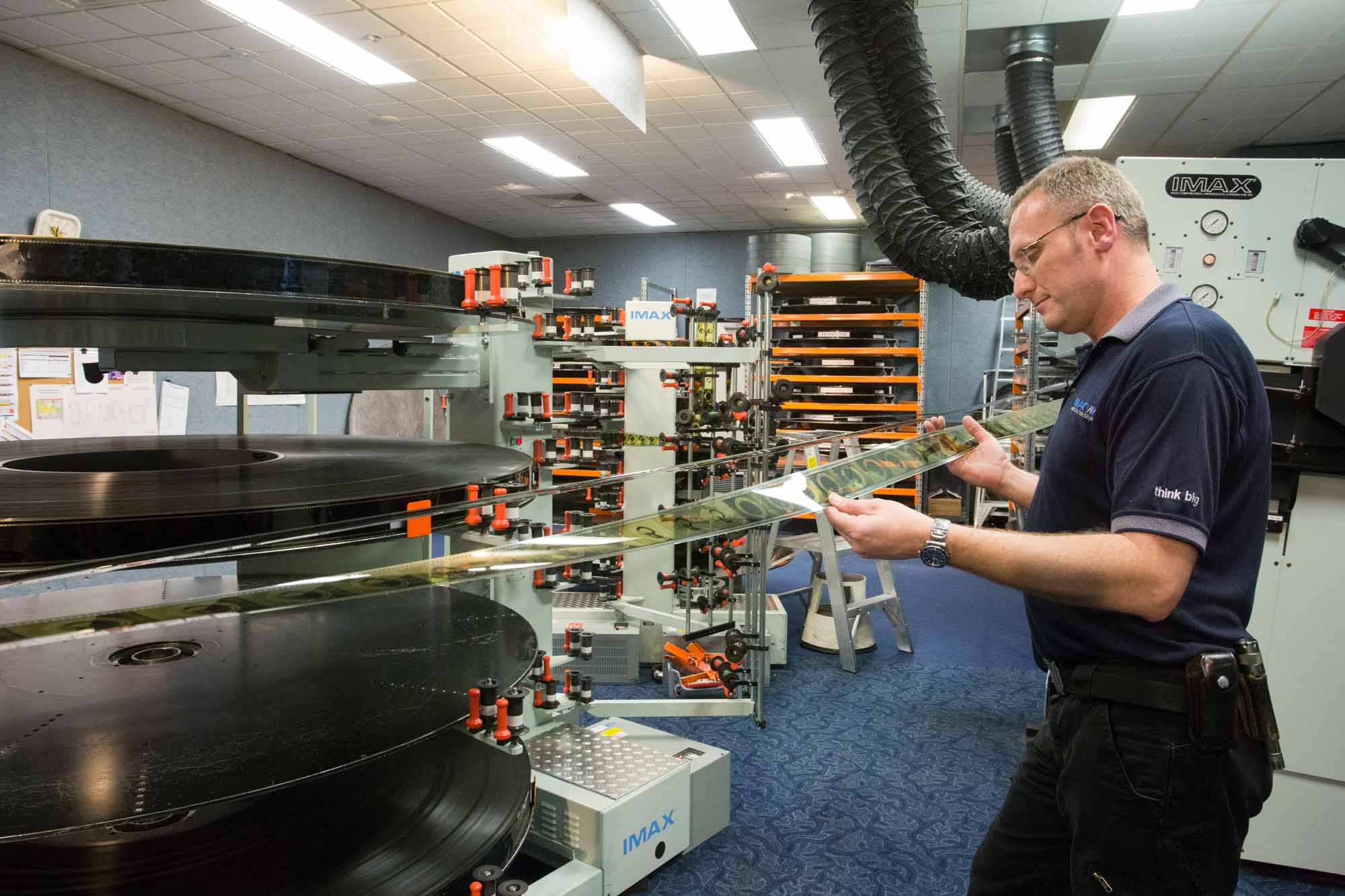 Why is the sound quality of IMAX so impressive and immersive?
The IMAX 1570 Film system utilises six full range channels of uncompressed digital audio, and eight sub-basses with 32 sub-drivers. IMAX Laser uses up to 12 channels. The speakers are located around the theatre so the sound appears as if it's coming at you from multiple directions, which is what makes it so immersive.
If you lay the Interstellar 1570 film print out in a straight line, how long would it be?
Around 16.7km if laid out in a straight line, so about one kilometre for every 10 minutes of film.
Why is it important that directors keep making movies in 1570 film?
IMAX is the largest of the different film formats, and it would be such a shame to have something so powerful and immersive fade away into the archives without having the chance to experience it again.